With the ongoing energy crisis sparking fears of power cuts in datacenters, OUTSCALE shows its customers how its services will be maintained, with the support of trusted partner datacenters that have anticipated the crisis.
Dealing with the crisis through resilience and anticipation
Fears that power cuts could affect datacenters are growing, and the rolling blackouts that might happen this winter have companies worried. Rightly so, as any interruption in the electricity supply would theoretically see the operation of Cloud services compromised, and if so, the consequences could also have an impact on the daily lives of citizens and organisations.
To this, OUTSCALE is offering a response to guarantee continuity of service guided by two watchwords: resilience and anticipation.
OUTSCALE has made resilience its priority for years now. This was evidenced by the reliability we showed during the COVID pandemic thanks to our Pandemic Prevention Plan (PPP) and the creation of a VP position dedicated to resilience held by Edouard Camoin. Most of all, OUTSCALE has taken care to build a real chain of trust with its partners and suppliers. This includes datacenter operators such as Telehouse, Equinix and Interxion, who did not wait for the crisis to hit to boost their resilience.
Our partners anticipated taking foolproof measures to guarantee continuity of service and maintenance in their datacenters, which will stand them in good stead during the current energy crisis. Such measures ensure our customers can look forward to a winter without any risk of blackouts or outages.
Reliable and lasting solutions
To offer our customers the best possible service and guarantee quality throughout the technological chain of trust, OUTSCALE has always been very selective in choosing its partners, working with market leaders that share its values and guarantee the highest levels of security, robustness and responsibility.
"We are absolutely confident in our datacenter providers' ability to deliver full availability of our infrastructure, despite the ongoing geopolitical and energy crisis," says Ghislain Seguy, Chief Delivery Officer at OUTSCALE. This risk, like any other, has also been subject to a risk analysis as part of the ISO 27001 certification processes.
Consequently, in order to withstand potential interruptions in the power supply, all our partner datacenters are equipped with backup generators that can operate non-stop, night and day, 7 days a week, 365 days a year.
"If the power were to be cut off on both electrical circuits (powered by two different sources), they would automatically switch to the backup generators, with inverters taking over while the generators start up. All datacenters have inverter circuits on each of their electricity supply systems, as well as generators with sufficient fuel tank capacity to run for 72 full-load hours. In the event of a power cut, inverters will take over for the 10 to 30 seconds it takes for the generators to start up, synchronise and begin producing electricity (several megawatts at some sites).
Special priority-supply contracts have been signed to guarantee uninterrupted operation come what may. Once again, these are not measures that have been taken in response to the current geopolitical crisis. These systems were already in place before the crisis hit, because, like us, our partners are firm believers in prevention and anticipation. And these measures will remain in place even if the electricity supply situation returns to normal," explains Edouard Camoin, VP Resilience at OUTSCALE.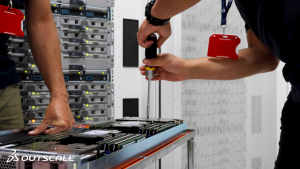 Maintenance and trust
The reliability of these backup generators is assured: every month, our partners test them to ensure that they are working correctly and that there are no problems with their safety or energy supply. Once or twice a year, the transition to the generators is also tested to verify their ability to take over smoothly.
"Making sure that our partner datacenters are equipped with these backup systems in the event of an incident or a power cut is something that we at OUTSCALE pay close attention to when selecting a new partner and check regularly during audits," says Ghislain Seguy. "We are particularly attentive to the redundancy our suppliers are able to offer us, a key element that enables us to guarantee continuity of service to our users under all circumstances." 
Organizational continuity
Resilience is not just a technical matter; thorough and appropriate organisation is also required, as our Cloud platforms are administered by our teams. This is an essential aspect for us, and is spelled out in our Business Continuity Plan for our Information Security Management System (ISMS), in accordance with ISO 27001 requirements. Just as our resilience enabled us to maintain continuity of service during the pandemic, so it will allow us to face the energy crisis, thanks to the Business Continuity Plan we have implemented in recent years.
What is more, if our Paris site were to be affected, then our expert teams located throughout France are ready and waiting to step in and take over.
OUTSCALE is a trusted operator that has built its reputation for excellence based on the relationships of trust it forges with its partners in order to provide the best service possible at all times. To find out more, visit our website here and here.