Companies are facing a double challenge today: secure their data and limit the environmental impact of their exponentially growing amount.  
According to IDC, following the sudden surge in the use of digital technologies, the creation and replication of data continue to grow with a yearly average rate of 23% between 2020 and 2025. Therefore, storage capacity must increase significantly. 
A major change that raises the question of the management of their environmental impact. Indeed, if digital technology represents today less than 4% of global greenhouse gas emissions (GHG), the sector shows nevertheless a growth rate of 9% per year (French only). This trend may be irreversible, but it can be downplayed through the implementation of appropriate measures, if started today. 
CSR Commitment, a Foundation for Building Trust
If the public health crisis has considerably stimulated data consumption, the global geopolitical situation in 2022 raised fears of an unprecedented energy crisis. In this context, and from now on, Cloud actors must also be held responsible for their impact on society and the environment. In an increasingly demanding market, CSR (Corporate Social Responsibility) has become a major competitive factor and a decisive criteria for trust.
3DS OUTSCALE started, in 2017, a CSR certification process labeled LUCIE 26000, the CSR reference label in France, aligned on ISO 26000, the international standard on corporate and social responsibility. An initiative completed in 2020 by the signing of the Climate Neutral Data Center Pact, a European pact for neutral datacenters by 2030. The goal: building a Cloud that enables sustainable and environmentally responsible innovation (French only).
That is why, facing such a crucial issue, 3DS OUTSCALE commits to working exclusively with trusted partners, such as Telehouse, one of our datacenter partners, themselves involved in a sustainable approach. Beyond energy consumption, the operator works on improving all of the datacenter's lifecycle, from the equipments' production to their usage.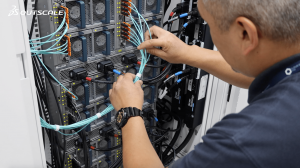 While Making Data Security a Priority
However, with cyberattacks on the rise, the environmental aspect is far from being the first decision criteria. 1 out of 2 French companies fell victim to a cyber attack in 2022, according to the CESIN (Club des Experts de la Sécurité de l'Information et du Numérique) barometer, reminding the critical importance of data protection. A case in point is the ransomware attack incurred by the Centre Hospitalier Sud-Francilien (CHSF) in Corbeil-Essonnes in August 2022, which was strongly paralyzed for several days. Or the case of André-Mignot hospital in Versailles on December 3, 2022…
Particularly sensitive health data requires very strict conformity standards from a host: HDS certification (Health Data Hosting), SecNumCloud qualification, GDPR compliance and sovereignty (for protection from the enforcement of extraterritorial laws such as Cloud Act).
So many signs of trust that 3DS OUTSCALE services are offering. Security has been a key value in 3DS OUTSCALE's DNA since its beginnings, over a decade ago. Our cloud infrastructure is SecNumCloud qualified by the ANSSI, and ISO 27001-27017-27018, HDS and TISAX certified. It is also important for us to rely on strategic suppliers [such as Telehouse] to be able to offer a real chain of trust between the customer, the cloud provider which is 3DS OUTSCALE, and the datacenter providers.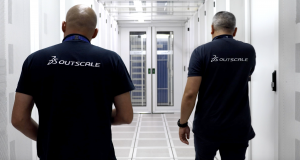 How to Prioritize both Security and Environmental Responsibility?
Security and environmental responsibility are not incompatible. But if customers are more and more concerned by environmental issues, the sole involvement of the Cloud provider is not sufficient to reduce the environmental footprint. All of the ecosystem (employees, suppliers, partners, customers…) must be involved to create a virtuous circle and lay the foundations of a strong trust along the technological chain.
The partnership between 3DS OUTSCALE and Telehouse perfectly illustrates this state of mind according to Sami Slim, General manager of Telehouse France: "3DS OUTSCALE has been working with Telehouse for many years, it is a trust-based collaboration. Actors like 3DS OUTSCALE drive us to take our security logic further. They challenge us on security and trust levels such as expected by their own customers, and we are compelled to adapt. Offering a new SecNumCloud qualified infrastructure has been a real challenge, but Telehouse was able to deliver, in due time, a space meeting the criteria of the SecNumCloud qualification defined by the ANSSI.
On the one hand, Telehouse proves itself as a trusted and well-known supplier, able to support 3DS OUTSCALE in its development strategy. On the other hand, 3DS OUTSCALE is an asset in our system approach because they push us to stay at the forefront of innovation."
Shared responsibility
Datacenters have never played such a crucial role as they do today. The world of tomorrow will definitely be a connected world. And, as Sami Slim reminds us: "Each infrastructure choice is a choice for the planet." 
Today, the task of Cloud operators is to lead the industry towards more responsibility, security, innovation, expertise and trust. At 3DS OUTSCALE, together with our ecosystem, we are ready to meet the challenge.
Learn more about the partnership between 3DS OUTSCALE and Telehouse and the security standards implemented in their datacenters!