CLOUD DAYS 2023 marked the launch of OUTSCALE Business Experience. This key announcement drew a great deal of interest for the Business Experience's capacity to make the digital transformation of organizations easier, and to help them remain competitive in a world where value lies in usage, data flows and collaboration between people. With a variety of use-cases, notably in the financial sector, OUTSCALE Business Experience has already proven its potential to transform business processes and foster innovation.
Artificial intelligence to support compliance
For many years now, asset management companies such as fund managers, custodian banks and mandate managers have been facing considerable inflation in regulatory requirements. A trend that shows no sign of slowing down.
That's exactly where Innova, a next-generation investment compliance platform, steps in. By leveraging artificial intelligence, machine learning and business process control technologies, Innova enables the financial industry to meet growing compliance requirements and manage the massive amount of data that ensues.
With this smart RegTech solution, fund managers and institutional investors can ensure that the appropriate checks are in place to systematically and efficiently verify their funds' compliance with regulatory requirements, both locally and internationally.
The Business Experience is built on three fundamental pillars: business process management, collective intelligence and data science. These elements are at the heart of the digital transformation of organizations, enabling them to optimize their processes and foster collaboration.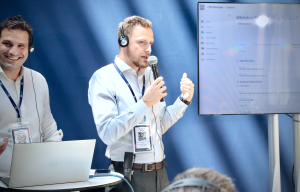 Business process management
The session by ITEROP, the startup offering one of the key components of the Business Experience related to business process management, emphasized the need for companies to benefit from complete visibility and traceability of their existing processes. ITEROP supports business teams by offering a solution that combines the digitalization of business processes with collaboration tools, enabling the company to transform while adding value to its teams' work.
With this solution, organizations can visualize all of their business processes, enabling them to automate and optimize them. ITEROP offers flexibility and interoperability between human and automatic systems, enabling automation between different applications, the creation of complex validation circuits and the use of standardized interfaces. It brings together all the functionalities essential to successful business transformation, whatever the field of activity.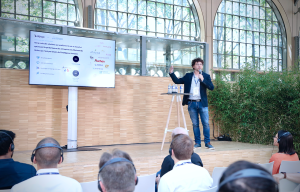 Connecting people through collaborative intelligence
The Business Experience connects people and ideas using Dassault Systèmes' 3DEXPERIENCE collaborative platform, a true catalyst for collaborative innovation.
With the 3DEXPERIENCE platform, all employees can contribute to innovation by sharing their ideas, knowledge and expertise. The platform offers a single, secure environment, bringing together people, data and processes, enabling companies to reinvent the way they work, produce and sell. Thanks to this approach, teams can work in a smarter, faster and more collaborative way, harnessing the power of the cloud and accessing the platform from anywhere, at any time and on any device.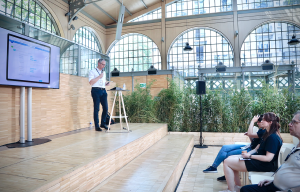 Dassault Systèmes' "Climate Fresk" Business Experience is a great use-case that demonstrates how the platform can be used to raise internal awareness of the importance of sustainability and environmental responsibility. It offers a unique way of involving employees in discussing climate change issues, creating collective awareness and fostering commitment to sustainable practices.
This use-case shows how to deploy a comprehensive, inclusive and participative program to raise awareness of environmental sustainability, and engage your employees in transforming your organization towards a more sustainable future through the 3DEXPERIENCE Platform.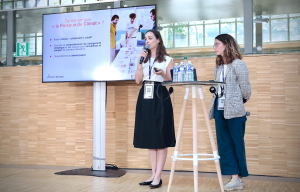 Fore more information, visit our website or contact us directly. Let's see how OUTSCALE Business Experience can help your business to unlock its full potential.